Tiedote 10.3.2023
Julkaisuvapaa heti
Marco Luponero & The Loud Ones julkaisi toisen täyspitkänsä The War On Science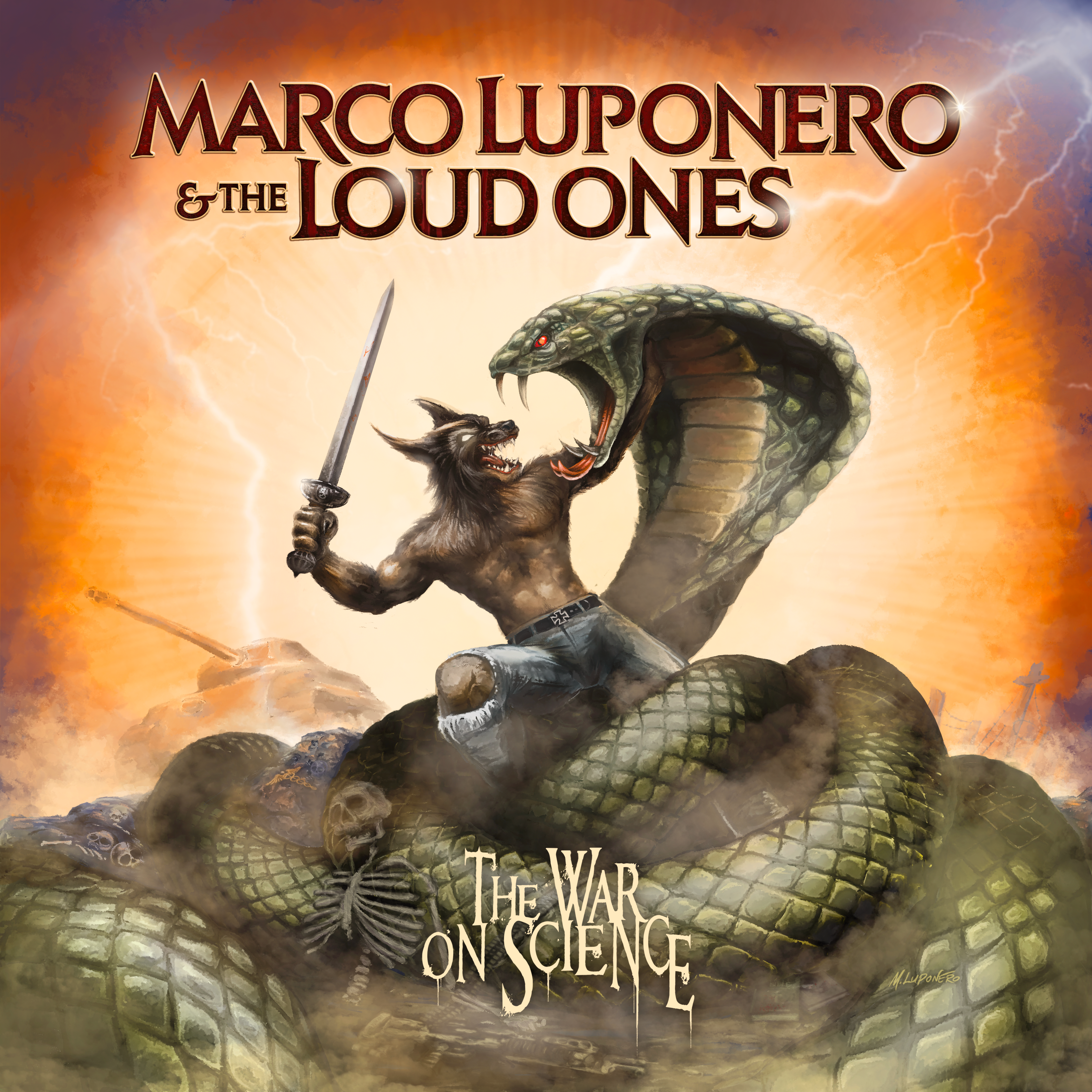 Helsinkiläisen Marco Luponero & The Loud Ones -yhtyeen tarina jatkuu bändin 10.3. ilmestyvällä toisella täyspitkällä. The War On Science -niminen lätty julkaistaan Sleaszy Rider Recordsin kautta.
Uudella levyllään laulaja-basistin Marco Luponeron luotsaama ryhmä liikkuu rohkeasti eri tyylien välillä. Keulahahmo kuvailee musiikkiaan "likaisen street rockin, melodisen punkin ja speed metalin nopeatempoiseksi, sekarotuiseksi äpärälapseksi".
Levyn nimi kertoo sen keskeisimmästä teemasta, sanoo Marco. "Elämme valeuutisten ja faktaresistenssin aikakautta. Kommenttikenttiä lukiessa raivostuu helposti, ja raivohan on aina erinomainen inspiraation lähde. Mikään teema-albumi The War On Science ei ole, mutta suuri osa materiaalista syntyi tällaisten ajatusten pohjalta."
Albumin äänityksestä ja miksauksesta vastaa Wolfthrone Studion Owe Inborr, ja masteroinnista useiden platinalevyjen vankka tekijä Henkka Niemistö.
Levy löytyy cd:nä sekä myös rajoitettuna vinyylinä.
"The War On Science" track list:
The Serpent (ISRC: FISGP2300001)
Wolf 'Em Down (ISRC: FISGP2300002)
Trouble Never Looked So Good (ISRC: FISGP2300003)
Blazing Through the Fury (ISRC: FISGP2300004)
Blast Out (ISRC: FISGP2300005)
Where Devils Dare (ISRC: FISGP2300006)
The War On Science (ISRC: FISGP2300007)
Mansion of Pain (ISRC: FISGP2300008)
2000 Guns (ISRC: FISGP2300009)
Lightning Is My Name (ISRC: FISGP2300010)
Uninformed Opinions Kill the World (ISRC: FISGP2300011)
Igniter (ISRC: FISGP2300012)
Shake Rattle and Die (ISRC: FISGP2300013)
Kuvat: https://drive.google.com/drive/folders/1I9aIBmaG3DHUgCRKT8ky6PBz1jQBF2nV?usp=share_link
Musiikkitiedostot: https://drive.google.com/drive/folders/1X2K1mPxHIgvzPKs_sjZsDK9tu_7zRuRM?usp=share_link
Linkit:
Kotisivu: https://marcoluponero.com/
Levy-yhtiö: https://sleaszyrider.com/release/the-war-on-science/
SoMe:
https://www.facebook.com/marcoluponero
https://www.instagram.com/luponero_the_loud/
https://www.youtube.com/@marcoluponerotheloudones